DENTAL IMPLANT RESTORATION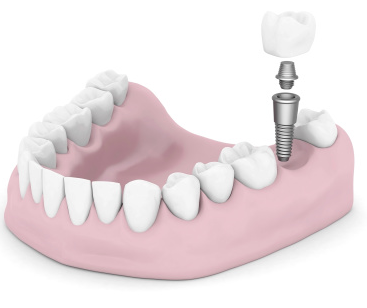 Dental implants are often the best treatment for missing teeth. A dental implant is placed in the jawbone so that it can fuse with your natural bone and become a strong and sturdy foundation for replacement teeth. Implants can be used to replace an individual tooth or for an implant-supported bridge or denture containing multiple teeth.

Dental implants are the closest you can get to healthy, natural teeth. They will allow you to confidently eat, smile, laugh, talk, play and enjoy all of your regular activities of everyday life without thinking about your teeth.
The procedure consists of two stages. The first is the placement of a replacement tooth root (implant). This step is completed by a dental specialist such as an Oral Surgeon or Periodontist. Dr. Boyd & Dr. Messerly will determine if you are a good candidate for a dental implant and refer you to the appropriate specialist for this step.

The next step is completed by Dr. Boyd & Dr. Messerly and involves placement of a tooth replacement (crown) at our office. This step involves taking impressions and records that are sent to a dental laboratory where the custom dental crown is made.